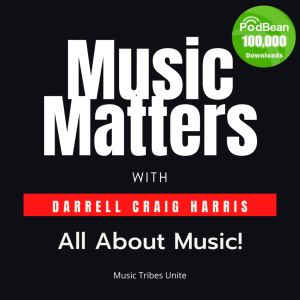 Friday Feb 05, 2021
The famous music documentary - The Wrecking Crew - Executive producer/director - Denny Tedesco is our special guest on Music Matters Podcast-EP.3-S2
It was a real pleasure to chat with Denny....his Dad and Mom inspired and taught me a lot through my interactions with them both at music school in California. So, when I had a chance to chat with Tommy's son Denny about the wonderful film - 'The Wrecking Crew' I couldn't wait to hear about some of the interesting history behind how the film came to life as well as some insight into Denny's own cinematic career.
Listen in as Denny explains why his film about a legendary group of studio musicians took nearly 20 years to make. His film is all about the legendary group of 1960s Los Angeles session musicians who played on everything from Phil Spector classics and "Good Vibrations" to commercial jingles, Denny explains why the name The Wrecking Crew? Back in those early studio days of the 60s turning up for work in a Hawaiian shirt was not the done thing! Far to casual for the establishment - who  believed that this group of session musicians would 'wreck' the industry by dressing in a casual manner!
The movie, started in 1996 with a roundtable conversation featuring his father, guitarist Tommy Tedesco (who died in 1997), bassist Carol Kaye,  drummer Hal Blaine and saxophonist Plas Johnson. The film premiered in 2008, starting in film festival and you can currently watch it on Amazon Prime. Denny goes onto explain the  daunting task of clearing 110 songs with 90 plus of them being top 40 hits. 
Imagine paying dozens of musicians, publishers and labels residual royalties for their music to be included in the documentary! Denny never gave up and pitched the documentary to many people, he raised enough money to pay 297 session musicians whose names were on contracts for the songs used in the documentary film.  Denny still remains as dedicated as he did in 1996 to telling this very important story about 'The Wrecking Crew' and their invaluable contribution to the music industry told through this insightful and extremely enjoyable documentary film. 
We've only really scratched the surface of Denny Tedesco and his own cinematic career - his time at IMAX and his latest documentary in production - 'The Immediate Family', and much, much more...To find out more about Denny Tedesco and connect follow the links below.
'The Wrecking Crew' documentary film on Amazon
A Big thanks to our friends at #AudioGeer and the team @shure for their awesome support! #Shure #MV7 #podcast mic!
Please check out our Music Matters podcast on @spotifypodcasts
Hey, also check out the New Music Matters Podcast Website- and Music Matters SWAG

And a Big Shout and thanks for the support of the following: Rodney Hall FAME Recording Studios in Muscle Shoals, Alabama Shure microphones Affliction clothing  and Nigel J. my co-producer and voice over talent, all while running - Music Tribes Unite Media for our Podcast - Productions
- Please, support, LIKE and helps us grow - check out our Social Media pages: