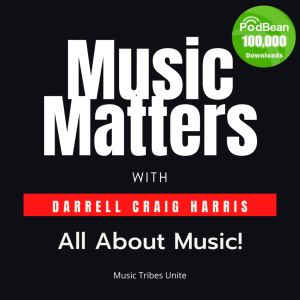 Monday May 17, 2021
Marten Andersson - acclaimed Heavy Metal and Hard Rock bass player is our guest on episode 20 season 2 of Music Matters with Darrell Craig Harris
It is great to connect with another bass guitar player and get into some details. Marten Andersson originally from Stockholm, Sweden, has lived for many years in Hollywood and on the outskirts of Los Angeles, California. He's a real heavy metal and hard rock nice dude. Well-known for playing with many famous bands - Steelheart - Lizzy Borden - Lynch Mob - Starwood - Legacy.

In 2016, Marten Andersson co-founded 'From Classical to Rock' with famous Chinese violinist Yutong, acclaimed cellist Stan Sharp bringing together platinum-selling Rock Stars, and Award-Winning Classical musicians benefiting public music and art education programs.

I highly recommend that you go and have a look into the extensive bio and achievements of Marten Andersson and connect with his social media channels, and keep up to date via his newsletter to receive upcoming tour information.
As promised, here is Marten Andersson's website and his Social Media links:
https://www.facebook.com/martenbass
https://www.instagram.com/martenandersson/
https://twitter.com/anderssonmarten
https://www.youtube.com/user/themartenandersson
Big thanks to our friends at #AudioGeer and the team @shure for their awesome support! #Shure #MV7 #podcast mic!
Please check out our Music Matters podcast on @spotifypodcasts
Hey, also check out the New Music Matters Podcast Website- and Music Matters SWAG

And a 'Big Shout Out' and thanks for the support of the following:
Rodney Hall FAME Recording Studios in Muscle Shoals, Alabama Shure microphones - Sullen Clothing-
Nigel J. my co-producer and voice over talent, all while running - Music Tribes Unite Media for our Podcast - Productions

Please, support, LIKE, and helps us grow - check out our Social Media pages: