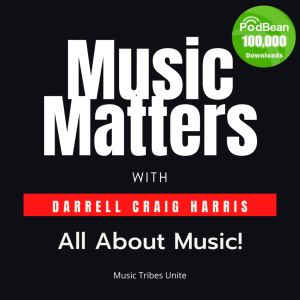 Monday May 10, 2021
Niki Westerback – singer/songwriter and lead vocalist for the all-female rock-band Barbe-Q-Barbies is our special guest on episode 18, season 2 of Music Matters with Darrell Craig Harris
In this episode, I chat with one of my long-time friends Niki Westerback. Niki was discovered and encouraged to develop her singing skills by well-known vocal coach and record producer -Tracy Lipp of Helsinki Records. Since their first studio meeting, Niki has never looked back. Both her solo career and as the lead singer of the all-female heavy rock group - Barbe-Q-Barbies. 

Over the CV19 lockdown, Niki's was invited to provide multi-back vocals for the Euro-winning hard rock group - Lordi - Niki's successful solo singer/songwriter career is aptly titled Niki's Project, and her latest single 'Like a Clown' has just been released with poignant lyrics about being bullied. You can check out her music on her website, as well as some of her videos.
Niki Westerback & Barbe-Q-Barbies website and social links.
https://nikisproject.com- (hey join Niki's mailing list on her website:) 
https://www.instagram.com/nikisproject/
https://www.instagram.com/barbeqbarbies/
https://twitter.com/barbeqbarbies
https://www.facebook.com/nikisproject/
https://www.facebook.com/barbeqbarbies/
Big thanks to our friends at #AudioGeer and the team @shure for their awesome support! #Shure #MV7 #podcast mic!
Please check out our Music Matters podcast on @spotifypodcasts
Hey, also check out the New Music Matters Podcast Website- and Music Matters SWAG

And a 'Big Shout Out' and thanks for the support of the following:
Rodney Hall FAME Recording Studios in Muscle Shoals, Alabama Shure microphones - Sullen Clothing-
Nigel J. my co-producer and voice over talent, all while running - Music Tribes Unite Media for our Podcast - Productions

Please, support, LIKE, and helps us grow - check out our Social Media pages: