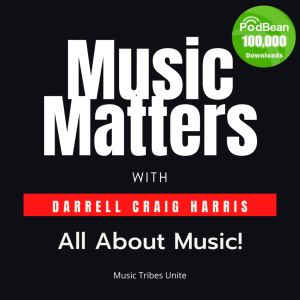 Friday May 21, 2021
Nashville based Tim Quick well known for his guitar playing in hit Broadway musicals, a film/TV composer and producer is our guest on episode 21 season 2 of Music Matters with Darrell Craig Harris
I met Tim way back when we toured on the Queen Symphony Show. Tim is well-known as the featured guitarist for NBC's Emmy Award-winning Jesus Christ Superstar Live in Concert televised special. And, School of Rock The Musical.

Tim has also performed alongside Alice Cooper, John Legend, and Dee Snider, as well as recording with multi-platinum selling producers such as Rob Cavallo and David Bottrill. for 2x Grammy Award winner Gloria Gaynor, he is also a member of the Bacon Brothers with whom he has spent the last three years as their guitarist, mandolinist, and backing vocalist.
If that wasn't enough! Tim has recently produced a 5 song EP album and the first track was released on May 07, 2021.  The second single "Tequila Blues" will be released on May 24, 2021. Then look out for the full EP "Comin' Home" on June 4, 2021.

Available on all major streaming services including Spotify, Apple Music, Amazon Music, and Google Play. 
Here are the links to his website Tim Quick and his social media channels. 

http://timquickmusic.com/news-1

https://www.facebook.com/timquickmusic

https://www.youtube.com/user/timquickmusic/videos

https://soundcloud.com/timquickmusic

https://open.spotify.com/artist/7l8dGCLYuw3FsZjW7JBmzM?si=TnyulqE-Sz6B2V7WdZFTVA&nd=1

https://music.apple.com/us/artist/tim-quick/1443142584

https://www.imdb.com/name/nm6716463/?ref_=fn_al_nm_1

Big thanks to our friends at #AudioGeer and the team @shure for their awesome support! #Shure #MV7 #podcast mic!
Please check out our Music Matters podcast on @spotifypodcasts
Hey, also check out the New Music Matters Podcast Website- and Music Matters SWAG

And a 'Big Shout Out' and thanks for the support of the following:
Rodney Hall FAME Recording Studios in Muscle Shoals, Alabama Shure microphones - Sullen Clothing-
Nigel J. my co-producer and voice over talent, all while running - Music Tribes Unite Media for our Podcast - Productions

Please, support, LIKE, and helps us grow - check out our Social Media pages: