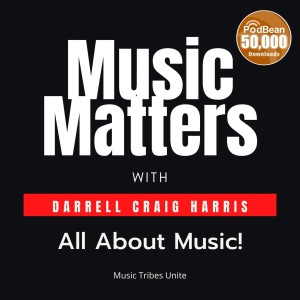 Tuesday Mar 02, 2021
Supporting World Hearing Day - Founder & President of Sensaphonics - audiologist, Dr Michael Santucci Chats with Darrell on Music Matters Podcast - EP.06 - S2
Our guest today is Dr Michael Santucci an audiologist, president and founder of Sensaphonics a globally known audio company based in Chicago, Illinois, USA. 
Making custom molded in-ear monitors, earplugs, and hearing protection for musicians, sound engineers, industrial use, motor sports and for aircraft pilots and even space shuttle astronauts.
Listen in as audiologist Dr. Michael Santucci chats about the development of good hearing health for musicians, and some valuable technical information which may surprise even seasoned audio industry and musicians when setting up for live concerts and gigs.
Dr. Santucci also heads up the "Listen Safe" initiative as a team member with the World Health Organization. This podcast is published to celebrate all the Great work that the World Health Organization does with experts like Dr Santucci in bringing greater awareness for the need to protect our hearing throughout the course of our lives. Celebrate yours and others hearing on World Hearing Day 2021.  March 03, 2021.    
#hearathon2021  #worldhearingday  #hearingcare   #safelistening   
Links for Dr Santucci: Sensaphonics & ASI Audio
A Big thanks to our friends at #AudioGeer and the team @shure for their awesome support! #Shure #MV7 #podcast mic!
Please check out our Music Matters podcast on @spotifypodcasts
Hey, also check out the New Music Matters Podcast Website- and Music Matters SWAG

And a Big Shout and thanks for the support of the following: Rodney Hall FAME Recording Studios in Muscle Shoals, Alabama Shure microphones Affliction clothing  and Nigel J. my co-producer and voice over talent, all while running - Music Tribes Unite Media for our Podcast - Productions
- Please, support, LIKE and helps us grow - check out our Social Media pages: