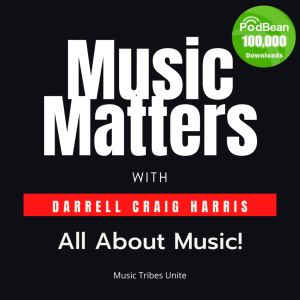 Thursday Jan 07, 2021
Rodney Hall, president of the legendary FAME Recording Studios in Muscle Shoals, Alabama - chats with Darrell Craig Harris on Music Matters Podcast - EP.11
In this episode, Darrell chats with his good friend  Rodney Hall,  who is the president of the FAME Recording Studios in Muscle Shoals Alabama.  Rodney is also the co-owner of FAME Publishing.  Rodney's father - Rick Hall along with Billy Sherrill and Tom Stafford founded  Florence Alabama Music Enterprises in 1959. Rick Hall took over as the sole owner in 1960 and renamed the recording studio with the acronym of its original name as FAME Recording Studios, moving location to Wilson Dam Highway in Muscle Shoals. In 1962 they moved again to the current building which started construction with a $12000 bank loan raised by his family.


Listen in as Rodney chats from the comfort of the newly revamped studio B at FAME, sharing some fascinating childhood memories including playing pranks on some of the most famous individuals in the music industry to funny little anecdotes his father told him when he was asked about the Rolling Stones as a guest on the late-night Jonny Carson show.  How his father gave him and his brother 5 cows each, as a way of earning money via their calf's to help pay for college and more!. 
Rodney continues to build upon his fathers famous legacy and in his own right. Producing amazing music at the FAME Recording Studios. Rodney works with a family of top-flight session musicians keeping the worldwide well-earned studios reputation at the forefront of the ever evolving music industry. To read more about this famous icon of Americana music history. Especially as a safe-harbor of culture diversity and a sanctuary of a special sound - just visit their website. Also, check out the Social media channels to keep up to date with all things - past, present and future @ FAME Recording Studios...
A Big thanks to our friends at #AudioGeer and the team @shure for their awesome support! #Shure #MV7 #podcast mic!
Please check out our Music Matters podcast on @spotifypodcasts
Hey, also check out the New Music Matters Podcast Website- and Music Matters SWAG

And a Big Shout and thanks for the support of the following: Rodney Hall FAME Recording Studios in Muscle Shoals, Alabama Shure microphones Affliction clothing  and Nigel J. my co-producer and voice over talent, all while running - Music Tribes Unite Media for our Podcast - Productions
- Please, support, LIKE and helps us grow - check out our Social Media pages: