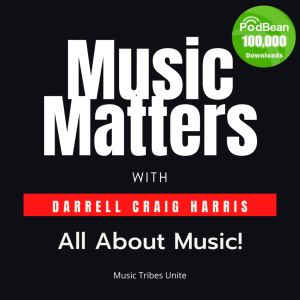 Thursday Dec 24, 2020
Special guest - Josh Paul - bassist for Daughtry ++ chats with Darrell Craig Harris on Music Matters Podcast - EP. 10
Well-known bassist Josh Paul is my special guest on this episode. Listen in as Josh shares backstories and insight into his life and as a bass player for the very successful rock bands - Daughtry, Suicidal Tendencies, and Infectious Grooves. Josh also tell us about his really interesting music projects that he's completed, his current ones, Zenith Devine, and the musical soundtracks by Josh and Brian Craddock on - The Project Chronicles - growing video series. 



As a family man, Josh also shares some of the lessons he's learnt over the years and why family is both a vital supportive anchor. Also, when you're touring, how important it is to be flexible, and have a working relationship built on mutual respect and trust. All these things and more help keep the passion alive while travelling away from home. 


Check out Josh Paul's website on Daughtry for both news and future tour dates. Also, you can follow, LIKE and keep up to date with Josh and his projects via his Social media links. Oh Yeah - and have a listen to Josh's project Zenith Devine on Spotify :)
A Big thanks to our friends at #AudioGeer and the team @shure for their awesome support! #Shure #MV7 #podcast mic!
Please check out our Music Matters podcast on @spotifypodcasts
Hey, also check out the New Music Matters Podcast Website- and Music Matters SWAG

And a Big Shout and thanks for the support of the following: Rodney Hall FAME Recording Studios in Muscle Shoals, Alabama Shure microphones Affliction clothing  and Nigel J. my co-producer and voice over talent, all while running - Music Tribes Unite Media for our Podcast - Productions
- Please, support, LIKE and helps us grow - check out our Social Media pages: