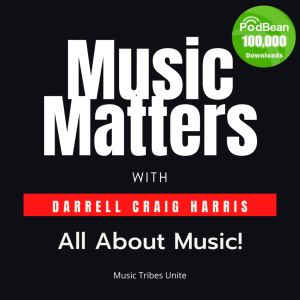 Tuesday Dec 01, 2020
Special Guest - Beyoncé, Madonna, U2 producer/remixer - Craig J. Snider chats with Darrel Craig Harris on Music Matters Podcast - EP. 06
Craig J. Snider is multitalented music professional with many credits to his name with work that includes credits for Katy Perry, Madonna, Dido, and for the well-know brands McDonald's and Gatorade.  Craig and Darrell chat and cover a lot of ground, from catching up as friends to some of the fascinating areas that led Craig to a slew of 30+ Billboard Dance Chart #1 hits, including songs by Lady Gaga, Beyoncé, Katy Perry, Justin Timberlake, Dido, Kelly Clarkson, Madonna, U2's Summer of Love and many more.


Craig is also the creative director at Mix Kitchen and his projects have included producing the 2018 David Cassidy's Songs My Father Taught Me, album. Helping the pop star in rediscovering songs from his youth. These sessions were filmed and recorded at Mix Kitchen and featured in "The Last Session," an episode of A&E's Biography.

Here are some social media links to directly connect with Craig J. Snider and his many ongoing projects.


- 
David Cassidy & Craig J. Snider
A Big thanks to our friends at #AudioGeer and the team @shure for their awesome support! #Shure #MV7 #podcast mic!
Please check out our Music Matters podcast on @spotifypodcasts
Hey, also check out the New Music Matters Podcast Website- and Music Matters SWAG

And a Big Shout and thanks for the support of the following: Rodney Hall FAME Recording Studios in Muscle Shoals, Alabama Shure microphones Affliction clothing  and Nigel J. my co-producer and voice over talent, all while running - Music Tribes Unite Media for our Podcast - Productions
- Please, support, LIKE and helps us grow - check out our Social Media pages: