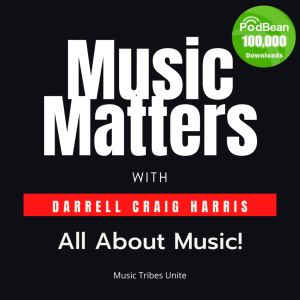 Friday Apr 09, 2021
Social Media Superstars - Dylan 'N' Alice - chat about their Multiple Viral Videos, New alternative Rock music and Upcoming tour plans on episode 12 season 2 of Music Matters Podcast
It was great to hang out with the three members of Dylan 'N' Alice - Michael, Dylan and Tommy...what great guys, talented  and mega following on their social media channels. 

Dylan the lead vocalist is well known for his YouTube, TikTok, Facebook videos, as well as several tv show appearances! His most popular video has over 115,000 million views...awesome music!
Check out their website = Dylan 'N' Alice and social media channels below.


A Big thanks to our friends at #AudioGeer and the team @shure for their awesome support! #Shure #MV7 #podcast mic!
Please check out our Music Matters podcast on @spotifypodcasts
Hey, also check out the New Music Matters Podcast Website- and Music Matters SWAG

And a Big Shout and thanks for the support of the following: Rodney Hall FAME Recording Studios in Muscle Shoals, Alabama Shure microphones Affliction clothing  and Nigel J. my co-producer and voice over talent, all while running - Music Tribes Unite Media for our Podcast - Productions
- Please, support, LIKE and helps us grow - check out our Social Media pages: