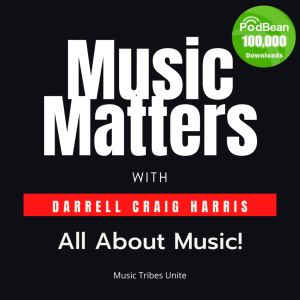 Monday May 03, 2021
Singer Bucky Heard of the Righteous Brothers - well-known vocal coach and really nice all-round guy is our guest on Music Matters - episode 16 of season 2 - with Darrell Craig Harris
It's great to chat with Bucky Heard. He joined with  'The Righteous Brothers' in 2016 at the invitation of Bill Medley, who said he'd found not only an amazing voice, he also found the right chemistry pairing up with Bucky. Above and beyond singing with the Righteous Brothers, Bucky offers an online vocal singing coaching method he's developed called Vocal PREP Metrix. Working on a strong foundational balance between Pitch, Range, Endurance, and Power.

Bucky Heard is also an actor/director/producer.- Bucky has also teamed up with The Righteous Brother guitarist John Wedemeyer. and they're well-known on the local Las Vegas music scene. Bucky and I also cover a lot of ground in this podcast and Bucky offer's great insight on dealing with the current situation and tips for longevity in the music business. 

Please checkout Bucky Heard on ALL his Social Media channels.

Please check out our Music Matters podcast on @spotifypodcasts
Hey, also check out the New Music Matters Podcast Website- and Music Matters SWAG

And a 'Big Shout Out' and thanks for the support of the following:
Rodney Hall FAME Recording Studios in Muscle Shoals, Alabama Shure microphones - Sullen Clothing-
Nigel J. my co-producer and voice over talent, all while running - Music Tribes Unite Media for our Podcast - Productions

Please, support, LIKE, and helps us grow - check out our Social Media pages: