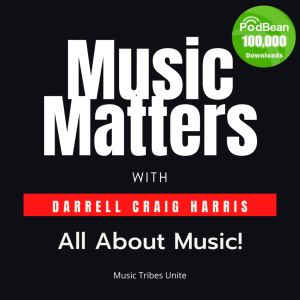 Friday Apr 16, 2021
Northern Mexican Journalist and Radio Host - Edna Martinez - Chats about arts, culture and politics on episode 13 - season two of Music Matters with Darrell Craig Harris
What great fun and a real pleasure to chat with Edna Martinez
Who is both a journalist and public radio station host on the public Radio Universidad Cuauhtemoc station. Her popular radio show - "MONITOR" offers vital up to date information on all elements of arts, culture and political commentary in the northern region of Chihuahua. 
Edna and I covered a lot of ground in a very short space of time. Well what do you expect when chatting with a seasoned radio show host. Listen in and hear how daily life in this part of Mexico is a great place to visit.
For more information, please visit  Radio Universided Cuauhtemoc and social media pages.

A Big thanks to our friends at #AudioGeer and the team @shure for their awesome support! #Shure #MV7 #podcast mic!
Please check out our Music Matters podcast on @spotifypodcasts
Hey, also check out the New Music Matters Podcast Website- and Music Matters SWAG

And a Big Shout and thanks for the support of the following: Rodney Hall FAME Recording Studios in Muscle Shoals, Alabama Shure microphones Affliction clothing  and Nigel J. my co-producer and voice over talent, all while running - Music Tribes Unite Media for our Podcast - Productions
- Please, support, LIKE and helps us grow - check out our Social Media pages: