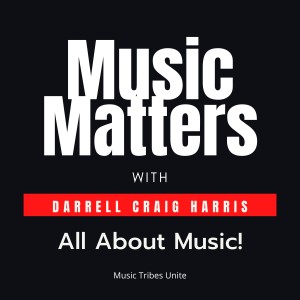 Sunday Dec 20, 2020
Music Matters Podcast with Darrell Craig Harris and his guest Nigel J. Farmer - EP.01
Welcome to the Inaugural episode of Music Matters Podcast
with your host - Darrell Craig Harris.


My special guest on this first episode is Nigel J. Farmer. Like myself, he's constantly on the go! His background and travels are wide-ranging, and he's the editor in chief of one of the top jazz magazine. He's a lot more, and he's my friend, and actually the intro/outro voiceover and co-producer with me on Music Matters podcast. Listen in and hear this cheeky chap and his English voice as he answers my questions and makes comments on some of his many music-related projects. And all from on top of a hill in SW France. Some of the links to his endeavours are below.


Remember, that in upcoming shows I have lots of Music Matters guests lined up. Please do check out our social media channels and appreciate your support and LIKES at a time when Music Matters even more to all of us. Perhaps as a space to go and seek sanctuary, happiness and rejuvenation.  
A Big thanks to our friends at #AudioGeer and the team @shure for their awesome support! #Shure #MV7 #podcast mic!
Please check out our Music Matters podcast on @spotifypodcasts
Hey, also check out the New Music Matters Podcast Website- and Music Matters SWAG

And a Big Shout and thanks for the support of the following: Rodney Hall FAME Recording Studios in Muscle Shoals, Alabama Shure microphones Affliction clothing  and Nigel J. my co-producer and voice over talent, all while running - Music Tribes Unite Media for our Podcast - Productions
- Please, support, LIKE and helps us grow - check out our Social Media pages: