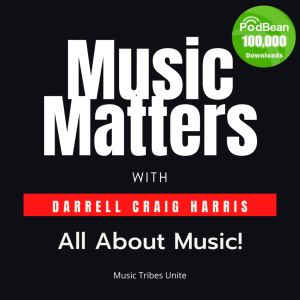 Monday Dec 14, 2020
Long time Bass player for Jools Holland & much more - Dave Swift chats with Darrell Craig Harris on Music Matters Podcast - EP.08


It was great to re-connect with Dave at his home in south-east London, UK. After a long British summer, Dave found himself not only in the second lockdown but to boot it was raining - I wonder if it was sunny would he have spoken to me in his garden with a great British beer in-hand! Our chat was insightful and great fun. Amongst many achievements Dave has been the featured bassist on 7 double platinum-selling albums - so we could have spoken for hours!
Below is a shortened - extract of Dave's extensive professional experience - which I encourage you to read and visit his
website and social media channels. 
Since joining Jools Holland and His Rhythm and Blues Orchestra in 1991, Dave Swift has established himself as one of the UK's finest, high-profile bass players. In his 30+ year career makes for an impressive portfolio, playing with renowned artists such as George Benson, Chaka Khan, Eric Clapton and Paul Simon. This list of famous names continues on and on...
Dave has performed at many prestigious events including the North Sea Jazz Festival, Dubai International Jazz Festival, Blue Note Tokyo, Amnesty International, the Montreux Jazz Festival, Glastonbury Music Festival, and a G8 Conference for world leaders, which included former British Prime Minister, Tony Blair, and President Bill Clinton. Additional performances include the Millennium Night celebration at the Millennium Dome for Her Majesty the Queen and a sell-out concert at the Sydney Opera House during their 2008 tour of Australia and New Zealand.
Dave Swift has been the in-house bassist for Chris Evans's primetime Saturday night TV show, Don't Forget Your Toothbrush, and Name That Tune on Channel 5. Since their inception, Dave Swift has performed on both the BBC TV show, Later…with Jools Holland, and the Jools Holland Show on BBC Radio 2. Where there is music, there is Dave Swift; he's recorded on many British movie soundtracks, which include: Secret Friends (Dennis Potter), MILK (Dawn French), Kevin and Perry Go Large (Harry Enfield & Cathy Burke), and Hunting Venus (Martin Clunes). More recently he recorded the soundtrack for the period drama Me & Orson Welles, starring Zac Efron, Christian McKay and Claire Danes.
Dave Swift continues to tour both in the UK and around the world. To read a full bio, click here.

A Big thanks to our friends at #AudioGeer and the team @shure for their awesome support! #Shure #MV7 #podcast mic!
Please check out our Music Matters podcast on @spotifypodcasts
Hey, also check out the New Music Matters Podcast Website- and Music Matters SWAG

And a Big Shout and thanks for the support of the following: Rodney Hall FAME Recording Studios in Muscle Shoals, Alabama Shure microphones Affliction clothing  and Nigel J. my co-producer and voice over talent, all while running - Music Tribes Unite Media for our Podcast - Productions
- Please, support, LIKE and helps us grow - check out our Social Media pages: