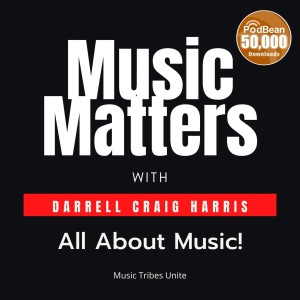 Tuesday Feb 23, 2021
J-pop and K-pop Mega hit songwriter Mayu Wakisaka chats with Darrell on Music Matters Podcast-EP.05 - S2
J-pop and K-pop Mega hit songwriter Mayu Wakisaka chats with Darrell on Music Matters Podcast. Speaking from her home in Tokyo.  Mayu and Darrell chat about her tremendous success as a songwriter and as a popular singer.

J-pop and K-pop are very different because of their respective languages, and Mayu explains how things are done. Mayu shares  information about Darrell's involvement in the launching of her success songwriting career that he was not aware of. Guess you learning something new everyday :)
Mayu has written for TWICE, Girls Generation, Got7, TXT, OH MY GIRL etc., and its worth checking out her Discography.
Also, Mayu has lots of exciting things on the horizon and you can check it all out through her social media platform links below:
(Please note the recording had some technical connection issues while recording live - we've done our best to clean the audio up and we hope you enjoy this interview.)
A Big thanks to our friends at #AudioGeer and the team @shure for their awesome support! #Shure #MV7 #podcast mic!
Please check out our Music Matters podcast on @spotifypodcasts
Hey, also check out the New Music Matters Podcast Website- and Music Matters SWAG

And a Big Shout and thanks for the support of the following: Rodney Hall FAME Recording Studios in Muscle Shoals, Alabama Shure microphones Affliction clothing  and Nigel J. my co-producer and voice over talent, all while running - Music Tribes Unite Media for our Podcast - Productions
- Please, support, LIKE and helps us grow - check out our Social Media pages: