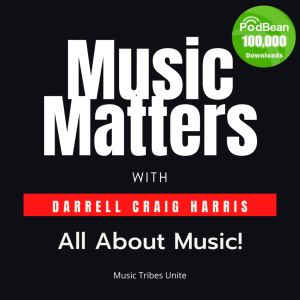 Tuesday Mar 16, 2021
International known vocalist, actress & show producer Anne Martinez chats on Music Matters Podcast with Darrell Craig Harris - EP.07 - S2
On this episode 07 - Season 2 of Music Matters Podcast...Darrell Craig Harris guest is Internationally known vocalist, actress, show producer and good friend Anne Martinez. Listen in and hear about the lessons that Anne has learnt along the way to maintain and grow her highly successful career. Working with well known entertainers, producing and creating shows, and working through the corvid lockdown.


Originally from New York, Anne has spent her whole life in the arts and entertainment industry, coming from a talented musical family. As a trained dancer and musician, Anne has travelled the world in constant pursuit of honing her skills. This includes time on the London, UK scene and beyond. For the last eight years Anne has made her home with her husband in Las Vegas. Quickly building up a positive and solid arts performers reputation. Once again this is through Anne's attitude towards treating her craft as a business with an eye for both the detail, the respectful way she interacts with her peer group, growing fan base, and the general public audience. 
Anne is happy for you to connect with her if you have industry related question via her social media links below.
- LV Headliner Vocalist Showgirl @fantasyluxor - Bradshaw - @luxorlv, RED PENNY ARCADE
A Big thanks to our friends at #AudioGeer and the team @shure for their awesome support! #Shure #MV7 #podcast mic!
Please check out our Music Matters podcast on @spotifypodcasts
Hey, also check out the New Music Matters Podcast Website- and Music Matters SWAG

And a Big Shout and thanks for the support of the following: Rodney Hall FAME Recording Studios in Muscle Shoals, Alabama Shure microphones Affliction clothing  and Nigel J. my co-producer and voice over talent, all while running - Music Tribes Unite Media for our Podcast - Productions
- Please, support, LIKE and helps us grow - check out our Social Media pages: