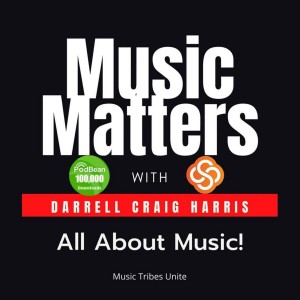 Friday Jun 18, 2021
How we Achieved 100K Downloads in 6+ months @ Music Matters with Darrell Craig Harris and his co-producer Nigel J. from Music Tribes Unite, and all on Switcher Chats!
(screengrab from the original live stream using Switcher Studio IOS App) 
When Nigel J. and I started this podcast project, we set out to achieve 100K downloads. We thought it might take 12 months?
We've managed this 100K milestone in 6+ months with just 35 podcast shows and an Apple Listener rating of 4.6 of 5 Stars on nearly 800 comments. And hit a Global audience of 57 countries in March 2021.

People have asked us to share how we did it?  So...Listen in and hear how we achieved this success that is almost unheard of in the music interview podcast arena with only  35 podcast shows in the can!
We both have other projects that we work on and Nigel J. lives in the beautiful SW French countryside. His studio has all the toys and he co-produces this podcast. He's also is a 25+ year veteran voiceover talent, a globally successful and now retired editor-in-chief of a very well-known Jazz magazine, oh and did I mention he owned a Jazz Radio station that went viral and was heard in 77 countries. Like many of us creative souls - he's always doing something, and his passion is Music Tribes Unite which he says is in constant development - with funky branded swag,  multiple music-genre playlists, and media production. Like me, he's always on the go, and a person I really resonate with. 




My home base is in Las Vegas, Nevada - there's a 9-hours difference between us!   A lot of our communication is done via email and chat messages. We work well together and we both enjoy the process of bringing you audio and video music-related interviews from musicians and music industry professionals who share really vital and up-to-date thoughts, feelings, and sometimes very personal experiences.
I've been a professional Musician all my adult life and have played with some extremely well-known music 'A-Listers - Check out my Facebook profile and my Music Matters website and have a look around - If you're interested in guesting or feel someone you know is worth checking out please get in contact with me. I'm also a well-known Getty Photographer - with a wide-ranging portfolio, which you can view here. 

In this podcast - Nigel J. kindly mentioned one of the music band videos I am also into. CRUSH3D ON TH3 CURB is a music project started in 2020, including former MCA/Universal recording artists, recording and producing original music virtually.
Our podcast series is available on all major podcast outlets, search for "Music Matters With Darrell Craig Harris". Thanks to my co-producer Nigel J. @ MusicTribesUnite.Media and to our sponsor Switcher Studio Mics supplied by Shure #switchercreator #madewithswitcher
Please check out our Music Matters podcast on @spotifypodcasts
and our New Music Matters Podcast Website- 

And a 'Big Shout Out' and thanks for the support of the following:
#Sullen Clothing - and Music Matters SWAG

Please, support, LIKE, and helps us grow - check out our Social Media pages: