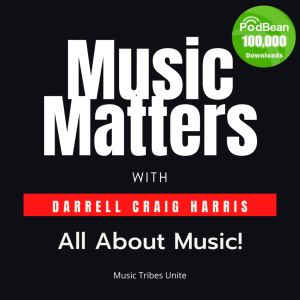 Thursday Apr 08, 2021
Hear the unmistakable soulful voice of Finnish musician, composer, arranger and vocal coach - Charlotta Kerbs on Episode 11 - Season 2 of Music Matters Podcast
What a pleasure to chat with and hear sing the unmistakable soulful voice of Finnish musician, composer, arranger and vocal coach Charlotta Kerbs. (also affectionately known as) Charlotta Curves. 
I've been following Charlotta on YouTube and social media for sometime, and she's always amazed me with the versatility of her voice, with its deep expression and amazing tone. As I mentioned it's one of those voices that is immediately recognizable. Please listen in and hear for yourself - I actually had tears flowing with her first of two songs she sings for us. The second is a haunting folk song and reminds me of many of the reasons I admire and love the time I've spent over in the lands of the Nordics.
I recommend you check out all things Charlotta Kerbs (also known as) Charlotta Curves on her social media channels.
A Big thanks to our friends at #AudioGeer and the team @shure for their awesome support! #Shure #MV7 #podcast mic!
Please check out our Music Matters podcast on @spotifypodcasts
Hey, also check out the New Music Matters Podcast Website- and Music Matters SWAG

And a Big Shout and thanks for the support of the following: Rodney Hall FAME Recording Studios in Muscle Shoals, Alabama Shure microphones Affliction clothing  and Nigel J. my co-producer and voice over talent, all while running - Music Tribes Unite Media for our Podcast - Productions
- Please, support, LIKE and helps us grow - check out our Social Media pages: