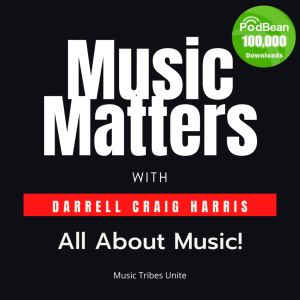 Friday May 28, 2021
Graham Russell of the Iconic duo - Air Supply is our special guest on Music Matters with Darrell Craig Harris on Episode 1, Season 3
In the first episode of our new season three - I reconnect and chat with Graham Russell of the iconic duo - Air Supply.
We chat about meeting in Japan while both touring in our respective shows. Graham shares his thoughts on songwriting, touring, life, and we even chat about Graham's deep spiritual beliefs! This was a great time spent with this fascinating individual. I hope you'll really enjoy this episode, as It's a good one!
To find out more about Graham Russell and Air Supply, their tour dates, and much more please go to their website: Air Supply Music.  + Social media Channels.

https://www.airsupplymusic.com/
https://www.facebook.com/airsupplymusic/
https://www.instagram.com/air_supply_band/

https://twitter.com/AirSupplyMusic
https://www.youtube.com/c/AirSupplyMusicofficalchannel/videos
https://music.apple.com/us/artist/air-supply/13563

https://open.spotify.com/artist/4xXCRXOfQKQ2gjWxNhNzYW?si=z-Uz5Bl8SiaJCi0ZP6de7A&nd=1



Big thanks to our friends at #AudioGeer and the team @shure for their awesome support! #Shure #MV7 #podcast mic!
Please check out our Music Matters podcast on @spotifypodcasts
Hey, also check out the New Music Matters Podcast Website- and Music Matters SWAG

And a 'Big Shout Out' and thanks for the support of the following:
Rodney Hall FAME Recording Studios in Muscle Shoals, Alabama Shure microphones - Sullen Clothing-
Nigel J. my co-producer and voice over talent, all while running - Music Tribes Unite Media for our Podcast - Productions

Please, support, LIKE, and helps us grow - check out our Social Media pages: