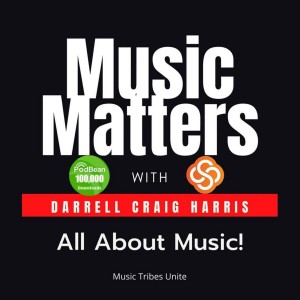 Tuesday Jun 22, 2021
Globally known Jazz vocalist, composer, producer, music journalist - Fiona Ross - is our guest on Switcher Chats with Darrell Craig Harris
(screengrab from the original live stream using Switcher Studio IOS App) 

My good friend in London, UK - Fiona Ross, and I had a chance to catch up.  Mostly, I wanted to share with all of you how totally amazing this multi-talented individual is, and for you to hear it directly from Fiona with some prompting from me. She tends to rave on about new and upcoming musicians - constantly encouraging and supporting the younger generations.
Fiona is constantly on the go. It's like she has some secret access to NASA rocket fuel. In fact, I don't think she's actually ever stopped since she started at 2-years old.
Listen in and enjoy finding out about this really authentic, fascinating advocate of so....many people. Have a look at her website - especially her BIO and see some of the well-known pop stars she's had a hand in helping on the road to global fame.


Please check out her website @ FionaRoss.Co.UK - also her Social-Media channels.

https://open.spotify.com/artist/59lPcyDIZJxmRqatvAjct8?play=true
https://twitter.com/fifross
https://www.facebook.com/fionarossmusic
https://www.instagram.com/fifi_ross/
https://www.youtube.com/user/fionaross/videos


Our podcast series is available on all major podcast outlets, search for "Music Matters With Darrell Craig Harris". Thanks to my co-producer Nigel J. @ MusicTribesUnite.Media and to our sponsor Switcher Studio Mics supplied by Shure #switchercreator #madewithswitcher
Please check out our Music Matters podcast on @spotifypodcasts
and our New Music Matters Podcast Website- 

And a 'Big Shout Out' and thanks for the support of the following:
#Sullen Clothing - and Music Matters SWAG

Please, support, LIKE, and helps us grow - check out our Social Media pages: