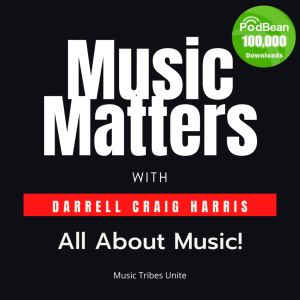 Sunday May 30, 2021
Georgina Agombar - founder and director of 'Third Fret' whose company provides online musical and production services is our guest on episode 2 of season 3 of Music Matters with Darrell Craig Harris.
Georgina (a.k.a - George) Agombar and I first connected via Instagram - While I was impressed by her website and music, after chatting with her, I was very heartened to hear what George had to share. Listen in as we chat about how George has naturally discerned for herself at a young age what it takes to provide collaboration to support musical talent in helping them to personally identify what achieving success is in the new music industry. For me, George Agombar is a positive example of what is great about a new and up-and-coming group of young music entrepreneurs for 2021 and beyond. 
Here is the website and social media links for George Agombar.

https://thirdfretltd.com/home-2/

https://www.facebook.com/thirdfretltd/

https://www.instagram.com/thirdfretltd/
https://twitter.com/GeorgeAgombar/

https://soundcloud.com/georgeagombarmusic/

https://www.youtube.com/channel/UC-efBlkdlgyH3H-MyZBjYBQ/featured

https://www.linkedin.com/in/georgina-agombar-32a04718a/


Big thanks to our friends at #AudioGeer and the team @shure for their awesome support! #Shure #MV7 #podcast mic!
Please check out our Music Matters podcast on @spotifypodcasts
Hey, also check out the New Music Matters Podcast Website- and Music Matters SWAG

And a 'Big Shout Out' and thanks for the support of the following:
Rodney Hall FAME Recording Studios in Muscle Shoals, Alabama Shure microphones - Sullen Clothing-
Nigel J. my co-producer and voice over talent, all while running - Music Tribes Unite Media for our Podcast - Productions

Please, support, LIKE, and helps us grow - check out our Social Media pages: