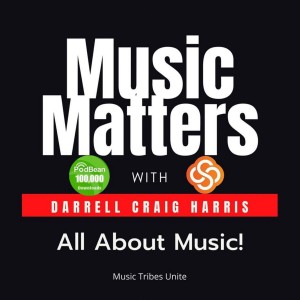 Friday Jun 11, 2021
Chris Heers - LIVE with Darrell Craig Harris at the Famous 108-year-old Pioneer Saloon with Switcher Chats and Music Matters Podcast.
(Switcher Studio IOS App camera aspect view 1)

Music Matters with Darrell Craig Harris (pro-bassist) Livestream this time is at the Pioneer Saloon with singer/songwriter Chris Heers- This Las Vegas native has songs that have been featured in movies, TV, Xbox, and Wii Country Dance Video Games, and on worldwide radio charting several top 100 songs in the USA and as high as number one in Europe.  Chris is twice nominated for best Indie country album and for best Americana song "Leaning Into Barstow".  Chris Heers was named 2015 Las Vegas performer of the year and can be seen headlining upward of 250 shows per year in Las Vegas and throughout the Southwest.
Our podcast series is available on all major podcast outlets, search for "Music Matters With Darrell Craig Harris". Thanks to Pioneer Saloon and to our sponsor Switcher Studio mics supplied by Shure #switchercreator #madewithswitcher
(Switcher Studio IOS App camera aspect view 2)
Please check out our Music Matters podcast on @spotifypodcasts
and our New Music Matters Podcast Website- 

And a 'Big Shout Out' and thanks for the support of the following:
#Sullen Clothing - and Music Matters SWAG
Nigel J. my co-producer and voice over talent, all while running - Music Tribes Unite Media for our Podcast - Productions

Please, support, LIKE, and helps us grow - check out our Social Media pages: