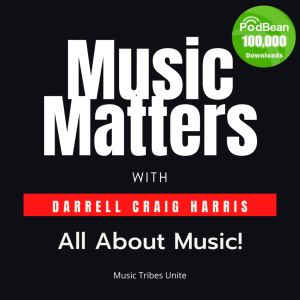 Tuesday Dec 08, 2020
Billy Joel protégé and friend Michael Cavanaugh chats with Darrell Craig Harris on Music Matters Podcast - EP.07
When you have a friend that's happy to pick you up from the airport at a moments notice and has been picked by Billy Joel as a protégé. It's time to ask him to chat on your new podcast. What a great podcast show this became. Lots of backstage sharing and a real treat to hear Michael play for us all live from his home studio in Las Vegas.

Read some short extracts from a resume that's like a mini-book - Michael Cavanaugh is the new voice of the American Rock & Roll Songbook and a charismatic performer and musician made famous for his piano/lead vocals in the Broadway musical Movin' Out. Handpicked by Billy Joel to star in Movin' Out, Cavanaugh evokes a style rivalling the Piano Man. In this lead role, he received both Tony and Grammy nominations. 




After the end of the broadway show in late 2005. Michael started touring and soon became one of the hottest artists in the private events market, and he continues to perform worldwide for company and charity events as well as sporting events including many PGA tour events, the SuperBowl, and the Indy 500.  His interpretation of the modern rock/pop songbook led to Billboard calling him "The New Voice of the American Rock and Roll Songbook," and he was recognized by Reuters as Entertainer of the Year for the private events market.


Michael continues to tour all of his well-known four symphony productions along with performing with his band in performing arts centers and other public venues.
"The Way I Hear It", his second commercial album, was released in April 2017, and it debuted at #17 on the Billboard Heatseekers chart.
In 2020, Michael Cavanaugh reached the POLLSTAR Live75.  The top 75 active touring acts in the country.
Directly below are links to Michaels social media pages.

 
____________________________________________________________________________________________________________________________________________________
A Big thanks to our friends at #AudioGeer and the team @shure for their awesome support! #Shure #MV7 #podcast mic!
Please check out our Music Matters podcast on @spotifypodcasts
Hey, also check out the New Music Matters Podcast Website- and Music Matters SWAG

And a Big Shout and thanks for the support of the following: Rodney Hall FAME Recording Studios in Muscle Shoals, Alabama Shure microphones Affliction clothing  and Nigel J. my co-producer and voice over talent, all while running - Music Tribes Unite Media for our Podcast - Productions
- Please, support, LIKE and helps us grow - check out our Social Media pages: