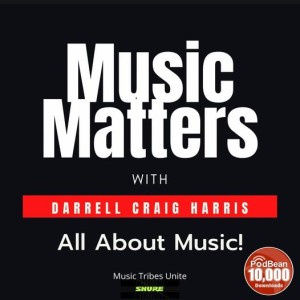 Sunday Jan 24, 2021
Globally known Japanese poet, journalist, filmmaker, and songwriter - Yuri Kageyama chats and performs live with Darrell Craig Harris on Music Matters Podcast - EP.01 - S2
Darrell was introduced to Yuri through Darrell's performance connection with the well-known traditional Bon Daiko drummer Isaku Kageyama.
YURI KAGEYAMA is a poet, fiction writer, essayist, journalist, filmmaker and songwriter of bilingual and bicultural (Japanese and American) upbringing chats with Darrell Craig Harris on Music Matters. Yuri shares her thoughts on current daily life in Tokyo and shares her keen perspectives on how we all need to be personally responsible if we wish for a collective legacy that offers a positive outcome for our succeeding generations.
Yuri talks about her award winning film - "NEWS FROM FUKUSHIMA" which has garnered great support as it's premiered in film festivals around the world.  Yuri recites her moving poem about the plight of fukushima  accompanied by Darrell on his bass guitar in a moving online live performance for us.
 This film is a a stark example of lessons we must learn from the under-reported catastrophic failure of the Fukushima Daiichi nuclear power plant which suffered major damage from the magnitude 9.0 earthquake and tsunami that hit Japan on March 11, 2011. The chain of events caused radiation releases from Units 1-4 forcing the evacuation of 83,000 residents from towns around the plant.

The triple meltdown also caused concerns about contamination of food and water supplies, including the 2011 rice harvest, and also the health effects of radiation on workers at the plant. Scientists estimate that the accident released 18 quadrillion becquerels of caesium-137 into the Pacific Ocean, contaminating 150 square miles of the ocean floor.
Website - Yuri Kageyama - and Yuri's social media links:
A Big thanks to our friends at #AudioGeer and the team @shure for their awesome support! #Shure #MV7 #podcast mic!
Please check out our Music Matters podcast on @spotifypodcasts
Hey, also check out the New Music Matters Podcast Website- and Music Matters SWAG
And a Big Shout and thanks for the support of the following: Rodney Hall FAME Recording Studios in Muscle Shoals, Alabama Shure microphones Affliction clothing  and Nigel J. my co-producer and voice over talent, all while running - Music Tribes Unite Media for our Podcast - Productions
- Please, support, LIKE and helps us grow - check out our Social Media pages: