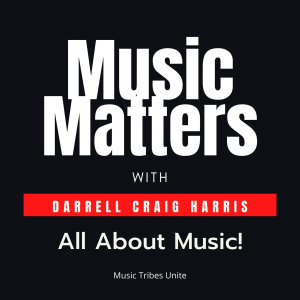 Sunday Dec 20, 2020
An International quick chat on the New SHURE MV7 USB/XLR combo dynamic podcast microphone - EP.02
#QuickChatsMMP 
Music Matters Podcast now uses the new SHURE MV7 as my good friends at Audio Geer sent me one in a gorgeous silver (also comes in black) to try and I'm now hooked...


Nigel J. in SW France also recently received his black SHURE MV7 for use in his podcast studio and as a back up for his voice overwork. Listen as Nigel J. and I explain some of the really great benefits of owning this dynamic microphone. 
Inspired by the legendary SM7B, the MV7 is a dynamic microphone with USB and XLR outputs, suitable for use with computers as well as professional audio interfaces. Connect it via USB and explore the setting possibilities and automatic level adjustment mode offered by the ShurePlus ™ MOTIV app, which allows you to control the sound of your voice or your distance from the microphone. With the automatic level adjustment mode, the microphone does the work for you.
A Big thanks to our friends at #AudioGeer and the team @shure for their awesome support! #Shure #MV7 #podcast mic!
Please check out our Music Matters podcast on @spotifypodcasts
Hey, also check out the New Music Matters Podcast Website- and Music Matters SWAG

And a Big Shout and thanks for the support of the following: Rodney Hall FAME Recording Studios in Muscle Shoals, Alabama Shure microphones Affliction clothing  and Nigel J. my co-producer and voice over talent, all while running - Music Tribes Unite Media for our Podcast - Productions
- Please, support, LIKE and helps us grow - check out our Social Media pages: