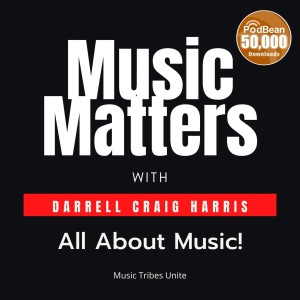 Monday Feb 22, 2021
Modern Drummer magazines editor at large, founding member of Mantus with 3 top ten singles, drummer, and more–Billy Amendola chats on Music Matters with Darrell Craig Harris – EP.04 - S2


My special guest on this episode is Billy Amendola, the editor at large of the long-time popular magazine 'Modern Drummer'.  Billy graciously shares personal facts for the first time. His growing friendship with Ringo Star since meeting at Saturday Night Live (SNL). His early music career, the forming in 1974 of the New York City based band 'Mantus'. Achieving three top ten dance singles with a worldwide success in the late 70s, and that's just for starters!
We chat about Billy's start at Modern Drummer magazine and the founder, his mentor, dear friend and drummer - Ron Spagnardi.  Billy shares what he feels are the important elements needed to be a good writer and what is expected if you wish to submit an article to Modern Drummer.

He goes on to talk about what he's observing about the music industry in its current state with the Covid19 pandemic. How vitally important it is for the music industry to collaborate and notice the prime opportunity we have to make it better and more equitable. 
Billy has reinvented himself over and over throughout his sustained and successful career. As a live performer, studio musician, producer/songwriter, and as mentioned his various roles including editor at large for Modern Drummer.

There is not doubt that Billy deeply loves the music industry for its art, and is not in anyway starry-eyed over fame. Billy has supported the launch of many performers as well as advocating for the rights of both established and new artist. He exemplifies the ability and need to reinvent oneself to remain current and he does this with finesse. 

He champions comprehensive music licensing reform, most notably The Music Modernization Act, which impacts hundreds of thousands of music creators.  Billy Amendola has both consulted and been the co-host for David Fishof's Rock N' Roll Fantasy Camp, where attendees play, write and record music in professional rehearsal and recording studios alongside music industry legends.
Our time chatting was very enjoyable, insightful and just evaporated far to quickly. As they say 'Time fly's when your having fun' and Billy was a real fun guest.

Please checkout Billy social media pages and please consider subscribing to the Modern Drummer magazine. 
A Big thanks to our friends at #AudioGeer and the team @shure for their awesome support! #Shure #MV7 #podcast mic!
Please check out our Music Matters podcast on @spotifypodcasts
Hey, also check out the New Music Matters Podcast Website- and Music Matters SWAG

And a Big Shout and thanks for the support of the following: Rodney Hall FAME Recording Studios in Muscle Shoals, Alabama Shure microphones Affliction clothing  and Nigel J. my co-producer and voice over talent, all while running - Music Tribes Unite Media for our Podcast - Productions
- Please, support, LIKE and helps us grow - check out our Social Media pages: