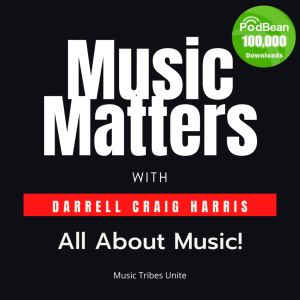 Friday May 14, 2021
Iconic 1960s singer Gary Puckett joins us to chat about his music career and shares some of his upcoming plans – all on episode 19 season 2 of Music Matters with Darrell Craig Harris
I had the pleasure of touring with Gary Puckett for a number of years and it was great to re-connect with him again - Just like old times. As you'll hear we covered a lot of ground in the hour that we spent chatting. I hope you enjoy this podcast as much as I did in making it. Below is a summary of the fantastic achievements that Gary has attained thus far in his impressive musical career.
GARY PUCKETT and the UNION GAP was one of the most successful musical groups of the sixties.

Gary's unmistakable signature voice garnered six consecutive gold records and top ten Billboard hits with the following titles:
"YOUNG GIRL" • "WOMAN WOMAN" • "LADY WILLPOWER" • "OVER YOU" • "THIS GIRL IS A WOMAN NOW"
"KEEP THE CUSTOMER SATISFIED" • "DON'T GIVE IN TO HIM" • "HOME"
GARY PUCKETT has performed on more than thirty network television shows and prime time specials during his career, even adding a command performance for the President and Prince Charles at the White House. The Union Gap disbanded in the seventies. In 1974, "Young Girl" was reissued in England where it received a silver record award for attaining a top-five position on the pop charts, several years after its initial release.
Gary continues to tour nationally & internationally, has a new album out now, "GARY PUCKETT - LIVE"
Gary currently resides in Clearwater, FL with his wife and family.
For more information and regular updates on Gary Puckett and his upcoming 2021 tour  - and his social media channels please visit:
http://www.garypuckettmusic.com/index.php
https://www.facebook.com/profile.php?id=100046645793199
https://www.youtube.com/c/garypuckettmusicinc/videos
Big thanks to our friends at #AudioGeer and the team @shure for their awesome support! #Shure #MV7 #podcast mic!
Please check out our Music Matters podcast on @spotifypodcasts
Hey, also check out the New Music Matters Podcast Website- and Music Matters SWAG

And a 'Big Shout Out' and thanks for the support of the following:
Rodney Hall FAME Recording Studios in Muscle Shoals, Alabama Shure microphones - Sullen Clothing-
Nigel J. my co-producer and voice over talent, all while running - Music Tribes Unite Media for our Podcast - Productions

Please, support, LIKE, and helps us grow - check out our Social Media pages: