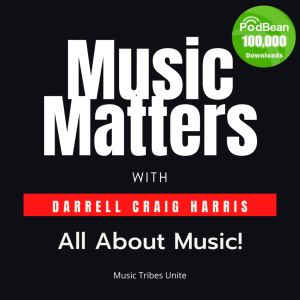 Sunday Mar 28, 2021
Actress, singer and show producer – Erin Baltsar is our special guest on Music Matters Podcast on Episode 09 - S2
It's a real pleasure to chat with actress, singer and show producer – Erin Baltsar.  This ladies career path has taken her right across both the continental United States, Europe and beyond. Performing in off broadway and regional shows and onto New York. Erin is currently starring in FRIENDS! The Musical Parody which pivots to Paris Las Vegas to continue its successful off-Broadway run that pokes fun at the show we know and love.  Erin also formed and manages a Vintage Jazz trio called 'The Swing It! Girls' - performing great music and entertainment to the servicemen and women of the united states armed forces and the general public alike. Erins professional credits include theater, film and television.
Find out more about Erin Baltsar - The Swing It"! Girls and more. 
A Big thanks to our friends at #AudioGeer and the team @shure for their awesome support! #Shure #MV7 #podcast mic!
Please check out our Music Matters podcast on @spotifypodcasts
Hey, also check out the New Music Matters Podcast Website- and Music Matters SWAG

And a Big Shout and thanks for the support of the following: Rodney Hall FAME Recording Studios in Muscle Shoals, Alabama Shure microphones Affliction clothing  and Nigel J. my co-producer and voice over talent, all while running - Music Tribes Unite Media for our Podcast - Productions
- Please, support, LIKE and helps us grow - check out our Social Media pages: