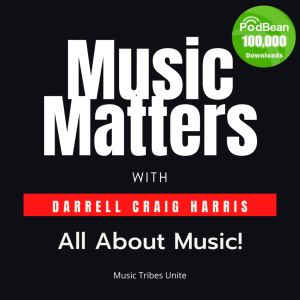 Friday Apr 02, 2021
Finnish singing superstar and good friend Jannike Sondstrom reconnects with Darrell Craig Harris on Music Matters Podcast Episode 10 of Season 2
What a pleasure to reconnect with this Finnish Pop superstar, kind and lovely personality. I've travelled to Finland fifteen times now.  It's people, the landscape and the energy have a special part that lives within me. Listen in as Jannike shares some fascinating insights about her start in music which is very much a vocation for her. Jannike also shares some updates and whats on her immediate horizon.
Check out her Jannike's website - Jannike Sondstrom- and social media channels - 
A Big thanks to our friends at #AudioGeer and the team @shure for their awesome support! #Shure #MV7 #podcast mic!
Please check out our Music Matters podcast on @spotifypodcasts
Hey, also check out the New Music Matters Podcast Website- and Music Matters SWAG

And a Big Shout and thanks for the support of the following: Rodney Hall FAME Recording Studios in Muscle Shoals, Alabama Shure microphones Affliction clothing  and Nigel J. my co-producer and voice over talent, all while running - Music Tribes Unite Media for our Podcast - Productions
- Please, support, LIKE and helps us grow - check out our Social Media pages: